This year is CANDLES's 25th Anniversary!
---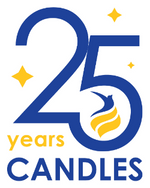 This year CANDLES Holocaust Museum and Education Center is celebrating its 25th anniversary. Holocaust survivor Eva Kor opened CANDLES in 1995 in honor of her twin sister, Miriam. Today, CANDLES not only serves as a memorial to Miriam, Eva, and the other Mengele Twins, but it also works to create a better world through illuminating the darkness, creating peace, and empowering the future.
To celebrate 25 years of service and education, we will be hosting programs, speakers, events, and activities to highlight our work of building and spreading hope, healing, respect, and responsibility. We will also honor the legacy of Holocaust survivor Eva Kor and her dream of creating more peace and kindness in the world by teaching the lessons of the Holocaust. Eva selflessly shared her story all around the world with the hope that she could sow seeds of peace and forgiveness and rid the world of hatred and violence. She was a voice for the victims, and the impact she had on the world is irreplaceable. We will continue her work in her stead.
We will host speakers and events each month at CANDLES and at some of our partners' locations in Terre Haute and Indianapolis, as well as share specials moments and stories from CANDLES's history.
We invite you to join us in our celebration in a variety of ways. Join the #52WeeksOfKindness challenge by completing our "52 Weeks of Kindness" calendar. Share your stories and memories of Eva and CANDLES on our Twitter, Facebook, and Instagram pages. Attend our events and live-streams. Register for the CANDLES 2020 Auschwitz Trip this summer. Sow seeds of peace in your own communities and carry on the legacy that Eva began.
We have many new programs and initiatives to share with you this year, so please review our full calendar of events. We have been honored to do our urgent and important work for 25 years. Thank you for your continued support, and we look forward to working together for many years to come.