Michael "Mickey" Kor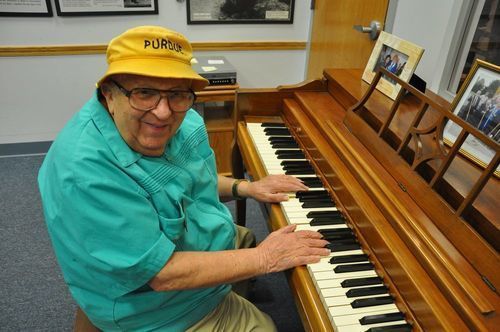 Michael "Mickey" Kor was a Holocaust survivor, Purdue University's greatest fan, and husband to Eva Mozes Kor, founder of CANDLES Holocaust Museum and Education Center. Mickey passed peacefully on October 19, 2021, surrounded by friends and family.
Mickey was born in Riga, Latvia to Scholom and Mirka Kor on October 24, 1925, and was the youngest of four boys. Because his father was a shoemaker, Mickey's family did not have the resources to escape when the Nazis invaded, and they were forced into the Riga ghetto. His father was murdered by a guard on the same day that the family was forced into the ghetto leaving his mother to move them in alone. During the liquidation of the ghetto, Mickey's mother saved his life by pushing him into the group of older boys that would be selected for slave labor. This was the last time he ever saw her. Mirka and the rest of the ghetto inhabitants who were not selected for forced labor were murdered in a mass shooting.
After surviving four years of forced labor in four different camps during the Holocaust, Mickey was liberated in 1945 by United States soldiers from the 250th Engineer Combat Army Battalion. Along with granting Mickey freedom, one of the first gifts that these soldiers gave to him was his first bottle of Coca-Cola. Ever since that moment, Mickey has associated the bubbly drink with his "first taste of freedom." Mickey was able to speak several languages because he was transferred through so many different camps. He was able to serve as the battalion's translator through which he became close friends with Lieutenant Colonel Nehf. After the war, Mickey petitioned to move to Indiana and Lieutenant Colonel Nehf found a sponsor for Mickey to move to Nehf's hometown of Terre Haute, Indiana. Mickey became an American citizen and a frequent visitor of the Nehf home where he taught himself to play the piano.
Mickey was visiting family in Israel in 1960 when he met Eva Mozes and within weeks the two were engaged. After they were married, they moved to Terre Haute where they raised two children. Mickey attended Purdue University and became a licensed pharmacist as well as a lifelong fan of the university's sporting teams. When Eva opened CANDLES Holocaust Museum and Education Center in 1995, he stood by her side. And he remained by her side when they had to rebuild the museum after the arson attack in 2003. Mickey volunteered at CANDLES as a docent, always greeting any guests with the utmost politeness, and he could often be found in the back of the museum happily playing the piano for anyone who would listen. Mickey utilized his passion for sports when sharing his story with visitors. When parts of his story became too hard to tell he would use sports analogies to continue.
---
Learn more about how Mickey came to the United States of America