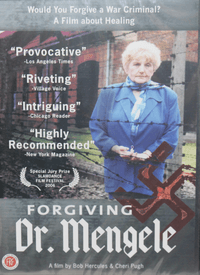 Forgiving Dr. Mengele
Directed by Bob Hercules and Cheri Pugh
Eva Kor and her twin sister were victims of the infamous Nazi doctor Josef Mengele, who conducted sadistic experiments on human beings at Auschwitz concentration camp. Haunted ever since by these cruel acts, something even more shocking occurs: Eva finds the power to forgive him. Having finally liberated herself from her feelings of rage and victimhood, she becomes a tireless advocate of this new way of healing - but not everyone is ready to forgive the unforgivable. 
Released January 2006                                                                                                                                                              Run time: 1 hour 22 minutes
---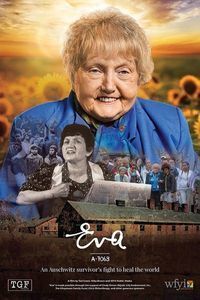 Eva: A-7063
Directed by Ted Green
"Eva: A-7063": An Auschwitz survivor's fight to heal the world. As a 10-year-old "Mengele Twin," Eva Kor suffered the worst of the Holocaust. At 50, she launched the biggest manhunt in history. Now in her 80s, she circles the globe to promote the lesson her journey has taught: Healing through forgiveness. Narrator Ed Asner and an all-star cast celebrate an irrepressible, small-town woman making a worldwide impact. 
Released April 2018                                                                                                                                                                        Run time: 1 hour 30 minutes
---
Buzzfeed Video
On August 31, 2017, Eva traveled to Los Angeles for an interview with Ricky Sans, the supervising producer of Buzzfeed, a global independent digital media company. The result of the interview is a 14-minute video titled "I Was a Human Experiment During the Holocaust." Buzzfeed shared the video on its YouTube and Facebook pages, and within the first 24 hours, the Facebook video had over 33 million views. As of Friday, September 29, 2017, the video had over 150 million views and counting. Mr. Sans remarked that Eva's video                                                                                                                                   has become the second-most-watched clip in the company's history.