Auschwitz 2020 Trip
---
Please join CANDLES for an unforgettable trip to Auschwitz.
Auschwitz Trip: June 27 - July 5, 2020
---
   FEATURING THE NEW EVA KOR: A JOURNEY THROUGH AUSCHWITZ AUDIO TOUR   
Join CANDLES Holocaust Museum and Education Center for an extraordinary experience as we travel to Auschwitz to remember the story of Eva Mozes Kor. A Journey through Auschwitz is a three-part audio tour of the concentration camps Auschwitz I and Auschwitz-Birkenau. The journey follows the late Eva Kor's life within the concentration camps using her own voice to tell the listener about her arrival and entry into the camp, her first-hand experience, and liberation in vivid detail and with stories rarely heard on previous tours. In addition, professional Auschwitz Museum guides will also provide you with a first-class touring experience.
---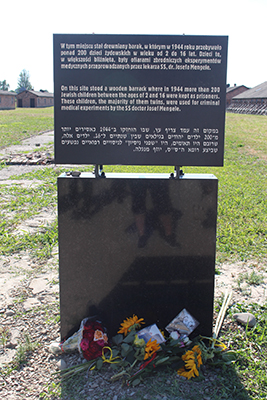 Trip registrations are now only available for the LAND-ONLY option. For questions, please email trips@candlesholocaustmuseum.org. 
 
For those booking the "land" trip package: Please do not purchase any flights until AFTER you have submitted your registration materials, deposit, and you have received an email confirmation of your registration from CANDLES. 
---
CANDLES offers limited scholarship opportunities to educators who may need financial assistance. The purpose of the scholarship is to assist people in helping area youth and their communities learn about the Holocaust and develop ideas to prevent prejudice, hatred, and violence.
If you have any questions, please contact us at trips@candlesholocaustmuseum.org or call 812.234.7881.
We hope you will consider joining us for a meaningful and enlightening experience.
The scholarship application period has come to a close.
---
Optional Trip Insurance:
Trip insurance is highly recommended for your own protection and will not be provided unless you select the option for your age group.
Trip insurance does not cover situations of political unrest or your cancellation due to unease with travel warnings.
You must pay your non-refundable insurance premium in full, in addition to your $600 non-refundable deposit. The insurance will cover your deposited amount.
If you choose to decline optional insurance coverage and experience any medical situation or situation that would have otherwise been covered by the insurance, these expenses will be your responsibility to pay out-of-pocket and are not eligible for reimbursement.
If you add additional items to your trip package that increase your total cost to more than $4,500 (i.e. a single room supplement and/or more expensive flight arrangements for land travelers), then your overall trip value may move up to the next cost tier.
Rate schedules and description of coverages for those living in New York, Kansas, Montana, Washington State, or Maryland can be found on the CANDLES website (in the trips section).
Group travel insurance is not available to those living in Pennsylvania, but you may purchase insurance outside the group. Please call the agent as indicated in the document on the CANDLES website for those rates and to purchase.
"Complete" Trip Package Insurance:
Prices quoted within the Summary of Services are intended for those purchasing a "complete" trip package who do not reside in New York, Montana, Kansas, Washington State, Pennsylvania, or Maryland, and whose trip package does not exceed the maximum insured value of $4,500.
"Land" Trip Package Insurance:
Those purchasing the "land" trip package should add the trip package cost to their independent airline accommodations cost in order to secure the appropriate rate within your age group for the total cost of the trip.
If the total of your air accommodations + the "land" trip package is more than $4,500, then you will move up to the next cost tier in your age bracket.
You must be traveling the same dates as the group in order to buy the Group Travel Insurance.  If you are extending travel and want insurance, you must purchase an individual policy.​​​​​​​
In the event of trip cancellation, CANDLES Holocaust Museum does not in any way guarantee that your reason for cancellation will automatically be covered by trip insurance. Travel Guard, Inc. is an organization independent from CANDLES. You should always direct questions regarding specifics of coverage or its limitations to them.
Please read the insurance document below that applies to your state.