Dimensions in Testimony Interactive Theater
---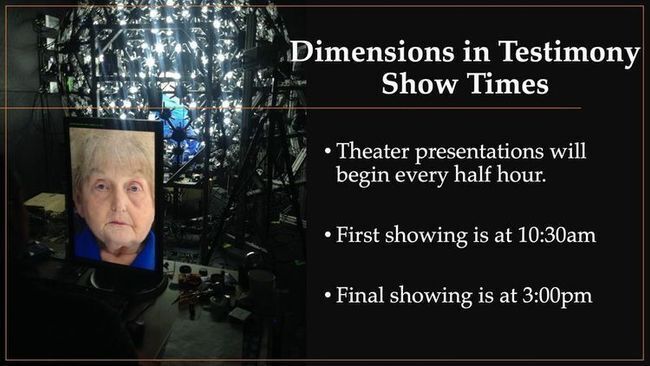 Dimensions in Testimony™ is an initiative to record and display testimony in a way that will continue the dialogue between survivors of genocide and learners far into the future. Each specially recorded interview enables viewers to ask questions of the survivor about their life experiences and hear responses in real-time conversation.
     • Viewers lead their own learning
     • Preserves the ability to have a dialogue with survivors of genocide
     • Advanced technology in service of humanity
The Interaction Feels Conversational
For each Dimensions in Testimony interview, the survivor sits in the middle of a specially-designed, multiple-camera rig and answers as many as 2,000 questions about life before, during and after the experience with genocide. Using advanced language processing technology, the program matches questions with the survivor's most relevant response. Newly developed display techniques enable the interactive installation to be placed in museums, national monuments, or other locations, with emergent applications for mobile devices.
Go Beyond the Textbook
Dimensions in Testimony helps to foster increased empathy and compassion among learners and develop important communication and critical-thinking skills. Interacting with a survivor enables them to become active participants in the learning process and go beyond historical facts or chronological events to examine the human story of genocide. Dimensions in Testimony is available at selected museums and learning institutions around the world.
Hear Different Stories
Dimensions in Testimony features 12 survivors with whom visitors can interact, ask questions, and hear their stories about topics like life before the war, hiding, experiences in concentration camps, life after the war, forgiveness, family, and more. 
---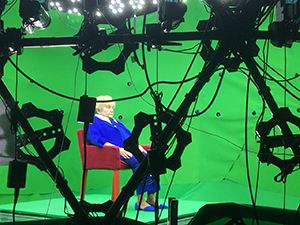 CANDLES' involvement in the project:
In 2016 Eva traveled to Los Angeles for 5 days of filming and recording. She spent much of that time sitting on a small stage positioned inside a large geodesic dome covered in lights, cameras, and green screens. She was asked more than 1,500 questions about her life before, during, and after the Holocaust. Her responses were indexed by keywords, which were then tied into newly developed voice recognition software.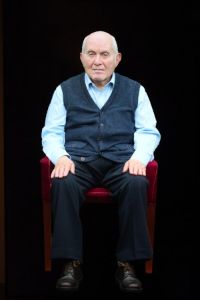 In 2017 CANDLES served as a test site for the beta image of another survivor, Pinchas Gutter. The two-dimensional test image was installed on a 75-inch 4K TV monitor hung vertically in the museum's exhibit space. Visitors were encouraged to test the natural language software by asking Pinchas' image questions about his life before, during, and after the war. Even at the testing stage, it became evident that this technology is not only a novel way to disseminate information, but equally significant, it offers a glimpse into the survivor's personality and character. Since then, the exhibit has developed into an interactive theater, where visitors can sit with each image and speak with the survivors.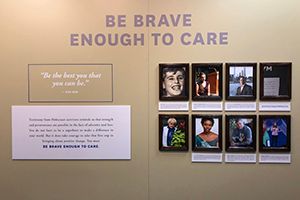 "My Story Matters" is a supplementary exhibit that challenges us to share our stories, learn the stories of our neighbors, and be brave enough to care for others. Visitors can see how each of us is connected, regardless of distance, race, religion, or background, and how we have the power to use our own lives to create a positive impact in the world. 
Collaborating on Dimensions in Testimony is CANDLES Holocaust Museum and Education Center as well as Illinois Holocaust Museum and Education Center, with technology by USC Institute for Creative Technologies, and concept by Conscience Display. Funding for Dimensions in Testimony was provided in part by Pears Foundation, Louis F. Smith, Melinda Goldrich and Andrea Cayton/Goldrich Family Foundation in honor of Jona Goldrich, Illinois Holocaust Museum and Education Center, and Genesis Philanthropy Group (R.A.).