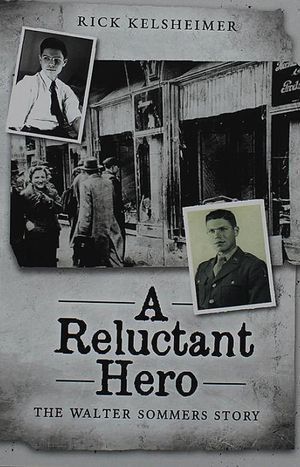 A Reluctant Hero: The Walter Sommers Story
Rick Kelsheimer
Walter Sommers views himself as an ordinary man who simply did what he had to do to get by in life. His life, however, has been anything but ordinary. Through circumstances beyond his control, Walter's journey has taken numerous twists and turns, his story unfolds like the plot of a novel. While growing up in Nazi Germany Walter realized there wasn't any future under Hitler. After surviving Kristallnacht and learning that his father had been taken to a concentration camp, Walter orchestrated his family's escape to America. In the span of just a few years, Walter Sommers went from being a Jewish teenager living under Nazi rule to a struggling immigrant in New York City to a liberator of four Pacific Islands as a Corporal in the United States Army.

After moving to Terre Haute, Indiana in 1948, Walter has spent his years fighting against discrimination while raising a family as a prominent businessman. After retirement at the behest of Auschwitz survivor, Eva Moses Kor, Walter began a new career as a Holocaust educator. As a docent, Walter has delivered countless lectures on the Holocaust and social injustice to a new generation. At age 95 Walter was awarded the Cross of the Order of Merit of the Federal Republic of Germany by the German President for his contribution to German-American relations and a better understanding of history.

During Walter Sommer's hundred years, he has been called a loyal German, a dirty Jew, a refugee, an immigrant, G.I. Joe, a liberator, an entrepreneur, a businessman, a husband and family man civil rights activist, a philanthropist, and last, but not least—a hero.