Romanian Heritage Tour 2018
---
Romania Heritage Tour: October 6 - October 14, 2018

Register today for an extraordinary experience as we travel to Romania and Hungary with survivor Eva Mozes Kor. As we walk in her footsteps, you will hear Eva's firsthand account of her life in pre and post-war Romania, deportation with her family, and the struggle for survival.
---
By providing trip participants with an immersive experience in the historical setting of Romania and Hungary, we hope to foster powerful breakthroughs in awareness of our respective roles in creating a world based on hope, healing, respect, and responsibility. We want to help our trip participants become witnesses to history, so they can make the world a brighter place. We welcome participants from all walks of life to join us on this trip.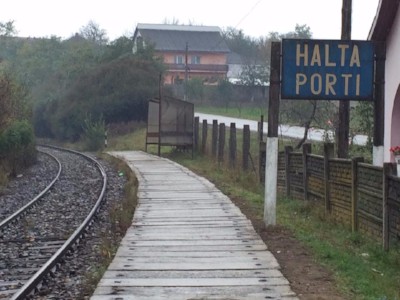 Preliminary 2018 Itinerary:
Saturday, October 6: Depart USA from Chicago
Sunday, October 7: Arrive in Cluj, get situated at hotel
Monday, October 8: Tour Portz, Northern Transylvania Holocaust Museum
Tuesday, October 9: Tour Cluj, Eva's old apartment, school, and synagogue
Wednesday, October 10: Day in Sighisoara
Thursday, October 11: Travel day: leave Cluj for Budapest, tour Oradea 
Friday, October 12: Tour Budapest, some free time
Saturday, October 13 : Tour Budapest, some free time
Sunday, October 14: Return to USA
Trip Feedback:
We have led over 10 group tours to Auschwitz since 2005, and this will be our third trip to Romania/Hungary. Our surveys conducted during and after the trip indicate that 100% of all trip participants are "highly satisfied" with their experience.
"I felt really connected to Eva on this trip to her home village. Walking in her footsteps, visiting where her home was, and being in the small village where she grew up was so personal to me. The countryside was beautiful."

"Listening to Eva's voice, the emotion, the love, it made it all full circle for me—from the beginning to where she is now."
---
For those booking the "land" trip package: Please do not purchase any flights until AFTER you have submitted your registration materials, deposit, and you have received an email confirmation of your registration from CANDLES. 
---
Optional Trip Insurance:
Trip insurance is highly recommended for your own protection and will not be provided unless you select the option for your age group.
Trip insurance does not cover situations of political unrest or your cancellation due to unease with travel warnings.
A portion of your deposit will be used to purchase your insurance premium.
If you choose to decline optional insurance coverage and experience any medical situation or situation that would have otherwise been covered by the insurance, these expenses will be your responsibility to pay out-of-pocket and are not eligible for reimbursement.
If you add additional items to your trip package that increase your total cost to more than $4,500 (i.e. a single room supplement), then your overall trip value may move up to the next cost tier.
Rate schedules and description of coverages for those living in New York, Kansas, Montana, Washington State, or Maryland can be found on the CANDLES website (in the trips section).
Group travel insurance is not available to those living in Pennsylvania, but you may purchase insurance outside the group. Please call the agent as indicated in the document on the CANDLES website for those rates and to purchase.
"Complete" Trip Package Insurance:
Prices quoted within the Summary of Services are intended for those purchasing a "complete" trip package who do not reside in New York, Montana, Kansas, Washington State, Pennsylvania, or Maryland, and whose trip package does not exceed the maximum insured value of $4,500.
"Land" Trip Package Insurance:
Those purchasing the "land" trip package should add the trip package cost to their independent airline accommodations cost in order to secure the appropriate rate within your age group for the total cost of the trip.
If the total of your air accommodations + the "land" trip package is more than $4,500, then you will move up to the next cost tier in your age bracket.
In the event of trip cancellation, CANDLES Holocaust Museum does not in any way guarantee that your reason for cancellation will automatically be covered by trip insurance. Travel Guard, Inc. is an organization independent from CANDLES. You should always direct questions regarding specifics of coverage or its limitations to them.
Please read the insurance document below that applies to your state.