Walter Sommers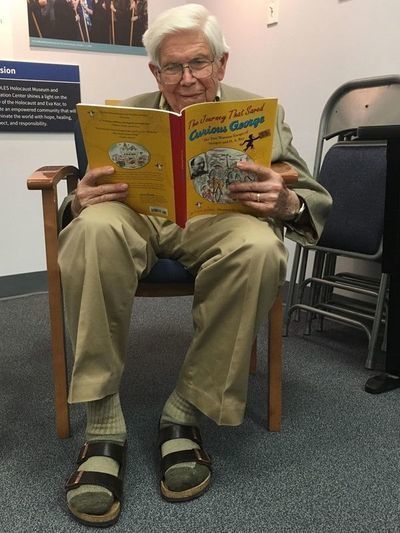 Walter Sommers was born on December 29, 1920, was born in Frankfurt, Germany. Walter and his family were Jewish. During the time, Germany was in a deep depression, due to having lost World War I, and many people were left starving, including Walter's family; therefore, the Sommers family had to keep a cow and a few chickens in order to provide a sufficient amount of food to get by. Despite their struggles, Walter's parents had the foresight that he would need to learn foreign languages. While being in school six days a week, Walter was learning English, French, and Spanish. 
When the Nazi Party took over through the election of Adolf Hitler in 1933, more jobs were provided to the German people; however, the Jews were blamed for the nation's debt. Jewish people faced persecution from the Nazis and were dehumanized through Nazi laws and Nazi propaganda. Though persecution of the Jews started by outlawing them from hiring Christian German citizens and discrimination, the Nazi government decided to take the persecution a step further after a Nazi Embassy official was shot by a Jewish man in Paris, France. At the time, Walter had been working as an apprentice in a small export and import company in Hamburg, Germany as a way to better his knowledge of foreign languages in hopes of one day leaving Germany.
On the night of November 9, 1938, when Walter and another apprentice were on their way home, they saw many synagogues being burned, Jewish businesses being vandalized and destroyed, homes were ransacked, and many people were forced out of their houses and were beaten and arrested by German Stormtroopers. After that night, which would be known as Kristallnacht, the Nazi government released a notice that all Jews would have the opportunity to leave the country. Walter managed to convince his family to leave Germany and move to the United States; however, the United States immigration policy at the time stated that in order to immigrate, the Sommers family had to prove that they had a living relative currently residing within the country. After getting in contact with a distant relative over their situation, Walter was successfully able to move himself and his family to the United States and escape the impending Holocaust. 
He lived in Terre Haute, Indiana, where he volunteered at CANDLES Holocaust Museum as a docent and educated people on how Hitler rose to power and the events that happened during Kristallnacht.
Walter passed away on February 17th, 2022, at the age of 101.   
---
---
Videos on Walter Sommers