Eva's Mozes Kor
---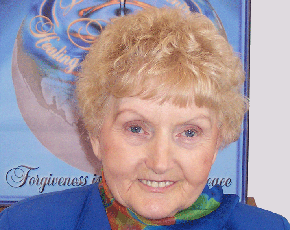 Eva Mozes Kor died on July 4th, 2019. She was a survivor of the Holocaust, forgiveness advocate, and public speaker. Powered by a never-give-up attitude, Eva emerged from a trauma-filled childhood as a brilliant example of the human spirit's power to overcome. She was a community leader, champion of human rights, and tireless educator.
Eva Mozes was born in 1934 in the tiny village of Portz, Romania. Through the first four years of Eva's education, she and Miriam attended a one-room schoolhouse. Eva's father, Alexander and mother, Jaffa had four girls: Edit, Aliz, and the twins Eva and Miriam. Though the Mozes family enjoyed a comfortable if rustic living as landowners and farmers, the family lived under the spectre of the Nazi takeover of Germany and the everyday experience of prejudice against the Jews.
---
---
For over twenty-five years, Eva was an integral part of the organization. Her lectures and guided tours were key elements of CANDLES' educational mission. She returned to Auschwitz on numerous occasions, often accompanied by friends and members of the community (particularly educators) so that they could share what they had learned with their students and future generations.CANDLES still continues these trips to Auschwitz each year in Eva's honor.
In 2007, Eva worked with state legislators Clyde Kersey and Tim Skinner to gain passage of an Indiana law requiring Holocaust education in secondary schools. In the summer of 2009, Eva taught a course at Indiana State University on the value and philosophy of overcoming adversity in life using the Holocaust as an example.
Today, Holocaust education, the story of the Mengele Twins, and personal forgiveness form the foundation of CANDLES Holocaust Museum and Education Center. Through an ever-broadening vision, we teach its visitors the importance of respect, equality, and peace.