World Genocide Commemoration Day 
By Jordan Hattar
Director of Help4Refugees.org

What does the refugee crisis reveal about current conflict, genocide, human rights abuses?
What do you do when a man kills his own chickens? The contemporary refugee crisis reveals that the world has not found an answer to the above 'chicken dilemma.' If you interfere while the man is killing his chickens, like in Syria, it is trespassing (a breach of sovereignty). And if you do not interfere, it can lead to genocide. Sovereignty cannot be conceived as the right to kill masses of innocent people. First the Holocaust, then Cambodia, then followed Bosnia and Rwanda. And time after time we uttered, never again. It is time we give these words meaning. 
Why should people know about this stuff?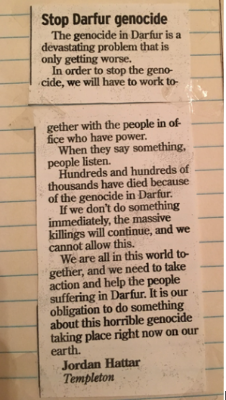 On an individual level, learning about past genocides can increase our own empathy for those suffering from the contemporary crises in Syria and Yemen. 
I first learned about genocide during my 9th-grade geography class. Feeling compelled to take action against the genocide in Darfur, Sudan, I wrote an op-ed (see picture) out of a sense of duty. 
I wrote the pictured op-ed in 2007 without knowing it would be selected for publication in a local newspaper. It was not until my 9th grade English teacher taped it to the whiteboard and talked about my activism in front of my classmates that I realized the impact that one voice can make. I remember thinking, 'I can shed light on these atrocities. Why not me?'
Genocide Awareness Steps:
     1. Watch documentaries about past genocides such as Ghosts of Rwanda and Worse Than War. 
     2. Organize a Skype session at your workplace or school with Carl Wilkens, the only American that stayed in Kigali throughout the 1994 genocide in Rwanda.
     3. Learn the stories of people enduring the contemporary crises in the world (Syria, Yemen, Venezuela). 
Action Steps Against Genocide: 
     1. Reflect upon the documentaries mentioned above and try sending your questions to the people featured in the documentaries. 
     2. Reflect on the below quote and our own capacity to take part in evil deeds. 
"If only it were all so simple! If only there were evil people somewhere insidiously committing evil deeds, and it were necessary only to separate them from the rest of us and destroy them. But the line dividing good and evil cuts through the heart of every human being. And who is willing to destroy a piece of his own heart?" 
     -Aleksandr Solzhenitsyn
Our Own Capacity for Evil: 
My friend, Dr. Zaher Sahloul, was classmates with the Syrian president, Bashar Al-Assad. During medical school, they took the Hippocratic Oath to protect patients. Dr. Sahloul said that Assad "was nothing special in medical school nor was he brutal, arrogant, or ruthless." Years later, Assad became president of Syria and Dr. Sahloul became president of the Syrian American Medical Society (SAMS). In recent years many hospitals supported by SAMS have been bombed by the Assad regime. Dr. Sahloul says Assad is "overseeing the killing of doctors, nurses, patients and the destruction of hospitals. It is ironic that you have a physician who is overseeing this destruction." 
During a philosophical discussion at the University of Cambridge, one of my former colleagues told me that "98% of people go with the flow" -- meaning actions are determined by circumstances. Given what I know about Assad prior to his rule in Syria, I think Assad was part of "the 98%" my colleague was referring to. If we were put in the same circumstances as Assad (his older brother who was being groomed for the presidency died in a car crash and his dad summoned him to take the throne), most of us would act similarly. My colleague also argued that 1% of people are misguided while another 1% are staunch moralists, people who will stand up for what is right and just regardless of their circumstances. Given that our circumstances could change at any moment, this is a gentle reminder that we must prepare ourselves to be staunch moralists in the face of atrocities, whether directly engulfed in a genocide or like for the majority of us, bearing witness to genocide from thousands of miles away.