Auschwitz Calling / A Friendship Begins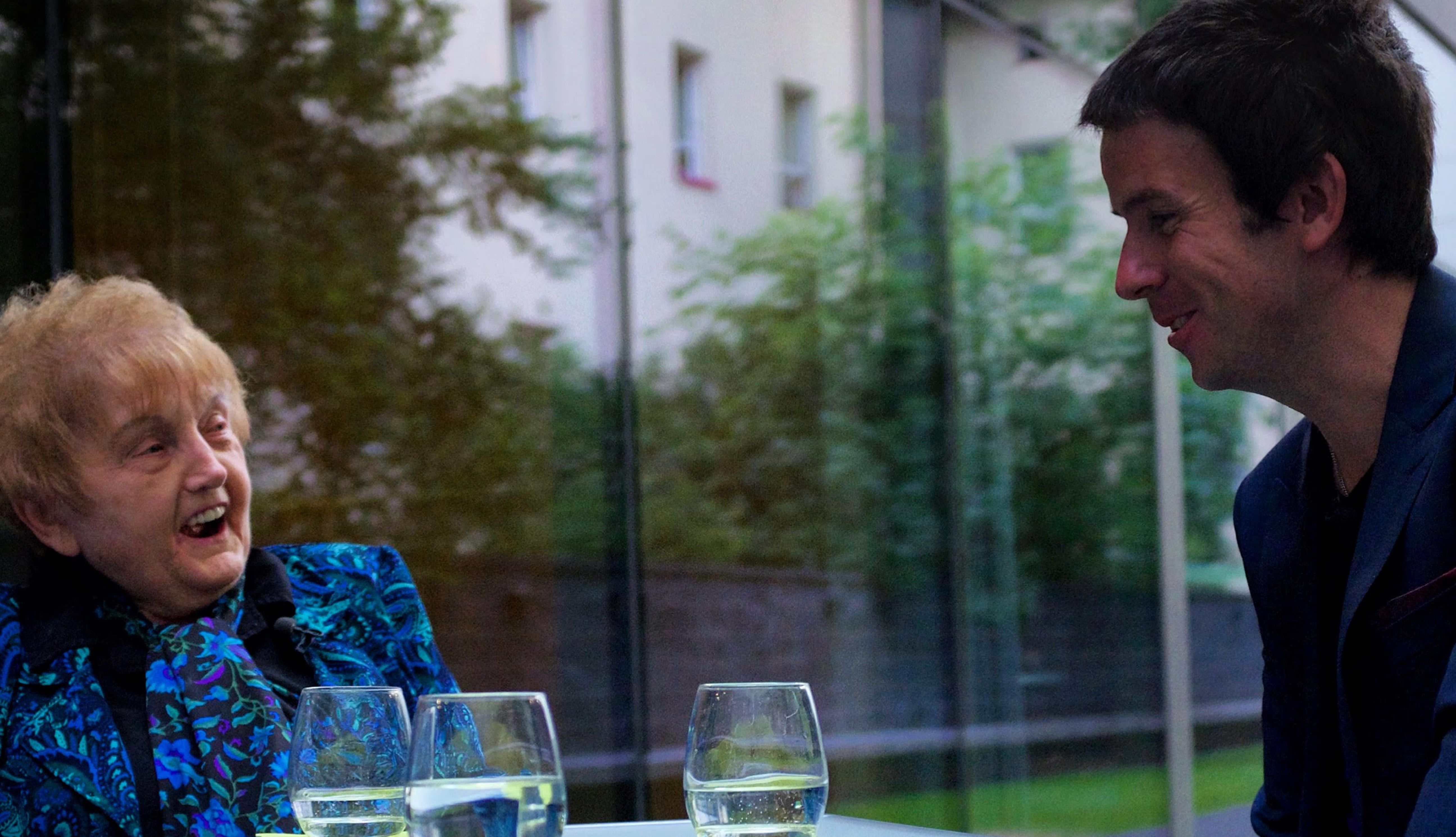 Late in December 2014, my wife and I made plans to visit Auschwitz over a couple of days in the forthcoming February.  To this day I'm still not sure what it was that made the trip so important to me. I have no Jewish heritage. I'm not a religious person. I wasn't particularly well versed in the history of World War II but there was something there, whether it was a curiosity or something more deep rooted, that made this visit essential. Auschwitz felt like a calling. I know now that it was.
I have no recollection of ever studying the Holocaust in my school years. The words Auschwitz and Holocaust were both things that I would discover when I was away from the teachers, the textbooks and the classrooms. I knew the very basics of what had happened in the early 1940s; the persecution of the Jews, the rise of Adolf Hitler and the Nazi Party but as with many school subjects, it didn't hold my interest.  
I knew from a young age, probably 10 or 11 years old, that all I wanted to do with my life was be a musician. A guitar player. School was an obstacle. I knew I wouldn't need trigonometry or sciences or anything else that was on offer. I did enough to scrape by in exams and left with the sole aim of forming a band, signing a record deal and traveling the world playing music.
All of the above happened. In-between working retail jobs, I played relentlessly around the Uk and began to write my own songs which eventually led to me signing a recording contract. I was able to make my first album and then travel to places like Japan and America to play those songs. It felt like everything was working out as I'd hoped it would. But, as with a lot of things in life, it slowly unravelled and I found myself in my late twenties with no job, no chance of another record deal and the realisation that my parents might possibly have had a point when they said I'd be better having some sort of safety net in case the music didn't work out for any reason.
I realise now that I was in a very bad way both physically and mentally. I'd gained a lot of weight and my alcohol consumption was vast and daily. The party was well and truly over. The only constant throughout all of this was my then girlfriend (now wife) Leanne. She kept me going and always encouraged me with whatever I was trying to do. As I approached my 28th birthday I made the decision to stop drinking and try to get back into shape. It was very difficult at first as I was so unfit. Eventually though through many miles of running, the weight started to come off and I felt like I was ready for the next step in life, whatever that would be. I found a job and started to enjoy life again. I started writing songs again and began planning for my first stab at a solo album.
Around this period on my way to work one day, I stopped at a bookshop to find something to read. I like Scottish fiction and was perusing the options when I noticed a small paperback book sitting in amongst the many Scottish offerings. There were 3 words on the cover: Auschwitz - A History.  The picture showed some sort of watchtower with a rail track leading up to a gate. I was both frightened but intrigued. I knew what Auschwitz was. I knew the bad association with the rail tracks but that was about the extent of my knowledge. For some reason I picked it up, paid for it and left the store. I remember reading it fairly quickly and then experiencing an almost instant obsession with the subject. I wanted to know everything there was to know about the Holocaust and the many millions of victims. Books would arrive to my home faster than I could read them. I was fascinated by the perpetrators. Names like Mengele, Eichman and Hoss became regular fixtures on my lunch breaks and days off work. I then became aware of works written by Survivors like Elie Wiesel. One in particular, Eva Mozes Kor stood out. Eva had apparently forgiven the Nazis for their atrocities and I found her book Surviving the Angel of Death to be a quite astonishing read. I could never have known that this first impression of Eva Kor was about to change my life forever.
The only thing left to do was to travel out to Auschwitz and Birkenau. Ideally we'd be able to visit the Schindler Factory too. I'd hoped that in doing this that my new found obsession with the subject would fade and I'd feel quite content with having learned something important about this most horrific chapter in history. 
I couldn't have been more wrong. Visiting Auschwitz was one of the worst experiences of my life. I found it shocking, terrifying and I left numb. A part of me didn't come back from that first trip.  From seeing the notorious gates bearing the slogan Arbeit Macht Frei to the thousands of pieces of discarded luggage, glasses and shoes to the gas chambers and the greying human hair, it was nauseating. Walking the corridors of each building, the eyes of the victims follow you from their places on the walls, their very existence reduced to a black and white photograph with an arrival date and an expiration date. On many of these photographs there is no difference in either date. The rain was relentless and that added to the discomfort of the day. I wondered how anybody had survived this. I wondered how it had ever been allowed to happen. The worst was yet to come. We returned to our car and drove the short distance to Auschwitz Birkenau.
I remember vacantly staring out of the car window. I was still attempting to process what I'd just seen which almost 5 years on, I'm still no closer to doing.
All of a sudden the rain eased off and I could see up ahead the cover picture from my book coming into sight. The watchtower. I could see the rail tracks. I began to feel very anxious and I realised that we were approaching the gates of Hell.
We parked and approached the entrance. There was not another soul in sight. The weather had been so extreme that many other tourists had taken cover in the nearby cafes or bookshops. We decided to try and enter the watchtower despite not being part of any tour group. A passing staff member scanned a badge and we were permitted to go up. The stairs leading the way were similar to those of a factory. The whole atmosphere was horrendous. We reached the top and had our first look across the vast wilderness that is Auschwitz Birkenau. There was nothing. No sound. No people. No passing commotion. Nothing. It was as if it had been paused. That silence frightened me and I couldn't help but think of the evil that had happened right where I stood. The many trains that arrived to deliver people to their endings. It was indescribable at that moment. I wanted to leave and we did. 
We followed the rail tracks down to the lone cattle car and then walked the paths to inspect the remaining barracks. The rain started to reconvene and we decided that it was time to leave, time to get back to Krakow and away from this place.
Fast forward 3 weeks. I'm still numb from the visit. I've written a poem about the experience but it hasn't helped erase it from my mind. I realise that I'm going to have to try and address this. My way of dealing with things has always been with a guitar and a pen. I'd try and write some music to mark the visit. I might even record these songs and donate any money to a Holocaust charity. 
One thing that I couldn't get out of my head was how massive and sensitive a subject the Holocaust is.  Being non Jewish, non religious, really played on my mind and I decided that I'd feel better about approaching it if I had some sort of connection, or link to Auschwitz.  I thought about it for a few days until I realised that it would be something special to try and use the voice of a Survivor somewhere on one of the songs. Then, I remembered my poem and things started to form in my head. I was researching Survivors online one afternoon when I remembered about Eva Kor and how much her book had floored me. It had to be Eva. I didn't know how or why but it just had to be Eva.
I found a speculative email address online and wrote my proposal. I pressed send and hoped that worst case scenario Eva would at least receive it and at best, she'd be interested.
What I hadn't bargained for was Eva replying later that day saying yes she liked the idea, yes she'd contribute her voice but why don't I return to Auschwitz with her and record the piece on the Selection Platform at Birkenau.  I was speechless. I felt dizzy at the thought. In that precise moment I knew that whatever happened was going to be unforgettable. I replied and said that I loved the idea. We agreed a date and I began work on what would become The Railway People.
There was one final twist to come before I flew back to Krakow, back to Auschwitz to meet Eva for the first time.  A friend had heard through another mutual friend what I was doing and he felt that there was a story unfolding. Being a TV producer, he felt that it might be worth filming this entire trip. I was reluctant at first but eventually agreed and the filming began in Glasgow as I recorded the songs for my project. I returned to Auschwitz 3 further times to research what I was doing. Each time I left with that same emptiness, that numb feeling. 
The day eventually came and I arrived back in Poland for my meeting with Eva Kor.  I've been very fortunate in my life to have met some extraordinary people. I'm not prone to nerves in situations like that but I was anxious about meeting Eva. I wanted her to like me and I wanted the whole episode to play out how I'd been imagining it in my head.
The film crew were set up and I was told to come through a hotel foyer to be introduced to Eva and her son, Alex.
As soon as we shook hands I knew we were going to get along. There was good feeling on both sides and we talked for way over an hour, sitting in the early evening Polish dusk. Eva had questions for me and vice versa. We made our arrangements for the next day's trip to Auschwitz and wished each other good night. 
The following day I was just as nervous. There's a LOT of red tape involved in filming/recording on the grounds of Auschwitz.  I'd been directed to a lady called Beth Nairn who was going to be able to help with the logistics and, as it turned out, just about everything else.  I liked Beth instantly. She's my kind of person with my kind of humour and in the years that have passed we've become firm friends.
Entering Birkenau with Eva was the single most humbling moment of my entire life. I can't really express the emotions involved in something like that. It was something that deeply saddened me but also inspired me because she'd made her peace, she'd found her own way of moving on with her life. It made me think about some of the things I'd been holding on to and if there was any point in grudges. It was a life changing day. The recording went very smoothly and Eva showed me around some of the places she'd experienced in her time there. I didn't say much the whole day. I listened and absorbed everything that I could.
What happened in the months after our meeting caught me off guard. Nick Low and Struan Adam, the production and camera team, transformed the footage into a beautiful piece for both television and radio. It was commissioned by the BBC on both platforms and even ended up with a national slot. The actor Michael Sheen narrated the final piece and it went on to win a prestigious New York Festivals award which I collected in front of a room full of TV/radio executives in a Manhattan ballroom. 
But, the biggest surprise was my friendship with Eva. We'd remained in regular contact after Auschwitz and that changed from emails and tweets, to text messages and phone calls. We'd become close.  Part of my plan for the project was to donate all proceeds to Eva's CANDLES Museum in Terre Haute, Indiana.  I waited until the CDs had all gone and then flew over to present the money personally. I instantly loved CANDLES, the staff and Terre Haute in general. The Museum is centred around Eva's message. Forgive and Heal. The volunteers that I've encountered have become friends too. Beth, Amy, Erin, Ted and Mika, Jessica and others that I've probably forgotten about! They've all become special to me. I think people gravitate towards Eva because she's exactly what she says she is. There is no pretence or falseness. She is very much the real deal. I adore her.
I've been back since to Terre Haute. I will go again. I'll keep going too because something special has happened in these last 4 years. An 85 year old Auschwitz survivor and a 36 year old musician from Glasgow, Scotland have connected in a way that neither of them would have imagined. Last year on my birthday my phone rang. The number wasn't recognised but the area code was; Terre Haute.  I answered and I heard my friend singing happy birthday down the line. It made my day, it made me laugh and it made me think how happy I was that despite all the nightmares, the anguish and hopelessness associated with a visit to that place, to Auschwitz, that against all odds, something started there which was positive and sincere and intended to do good. The Holocaust can never be forgotten. We have a responsibility as human beings to ensure this darkest chapter is never repeated.
This has been the most extraordinary journey of my life. 
A calling? I think so.  
Raymond Meade. 
Glasgow.
February 2019