The Journey that Saved Curious George:
The True Wartime Escape of Margret and H.A. Rey
---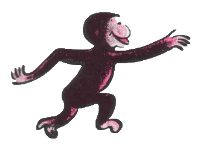 Long before getting himself into all sorts of mischief in the beloved Curious George books, the famous monkey made an incredible journey when his creators escaped the Nazi invasion of France.
When authors Margret and H.A. Rey were forced to flee Paris as the Nazi army began to invade, they began their dangerous journey of escape on bicycles, pedaling to Southern France. The manuscript and illustrations for the Curious George book were among the few possessions they were able to take with them. Escaping on trains through Spain, Portugal, and all the way to Brazil, the Reys finally reached the United States in October of 1940. Once they were living in the United States, they created a contract with Houghton Mifflin for The Adventures of Fifi, later retitled The Adventures of Curious George.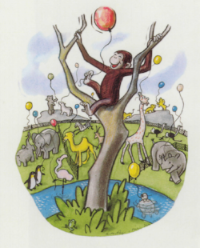 Join us for an educational exhibition with original and reproduction works of art depicting the miraculous escape of the Reys from Nazi-occupied France during WWII. The Swope Art Museum will display their story along with fun activities for children, families, and adults of all ages. CANDLES Holocaust Museum and Education Center will display original works of art created in concentration camps and American anti-Nazi propaganda cartoons.
This dynamic multi-museum exhibition will allow all ages to explore the connection between art and the Holocaust. Enjoy weekly themed programs, such as an author's talk, film screening, art activities, and a presentation by a French Holocaust survivor.
---
---