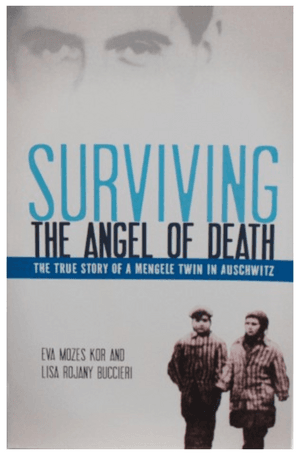 Surviving the Angel of Death: The Story of a Mengele Twin in Auschwitz
Written by Eva Kor and Lisa Rojany Buccieri
Eva Mozes Kor was 10 years old when she arrived in Auschwitz. While her parents and two older sisters were taken to the gas chambers, she and her twin, Miriam, were herded into the care of the man known as the Angel of Death, Dr. Josef Mengele. Mengele's twins were granted the "privileges" of keeping their own clothes and hair, but they were also subjected to sadistic medical experiments and forced to fight daily for their own survival, as most of the twins died as a result of the experiements or from the disease and hunger pervasive in the camp. In a narrative told with emotion and restraint, readers will learn of a child's endurance and survival in the face of truly extraordinary evil.
The book also includes an epilogue on Eva's recovery from this experience and her remarkable decision to publicly forgive the Nazis. Through her museum and her lectures, she has dedicated her life to giving testimony on the Holocaust, providing a message of hope for people who have suffered, and working toward goals of forgiveness, peace, and the elimination of hatred and prejudice in the world.
Young Adult, 200 pages, Ages 12 & up
Hardcover ISBN: 978-1-933718-28-6
Paperback ISBN: 978-1-933718-57-6
Guided reading level: W; Grade level: 5-6; Reading Recovery level: NA
---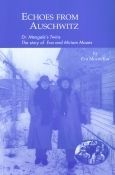 Echoes From Auschwitz: Dr. Mengele's Twins, The story of Eva and Miriam Mozes
Written by Eva Mozes Kor as told to Mary Wright
This is Eva's first book recounting her life and was written before she found forgiveness. 
Eva's first memories go back to the early years of Hungarian occupation of her her small village of Portz. Her memories are vivid and her story is the story of a little girl who learned at an early age about hatred and persecution. Eva believes that "children have an innate sense sense of fairness and when it is violated it leaves the, with questions and a sense of betrayal. Parents, teachers, and all who take care of children must empower children with the knowledge need to question any act of hatred and unfairness committed against them."
Eva Mozes was born in Portz in Transylvania (Hungary) in 1934. She was deported with her family in early 1944 to Auschwitz. Her parents and two older sisters died there. Eva and her twin, Miriam, survived when Dr. Josef Mengele, the "Angel of Death ", selected Eva and her twin sister for inclusion in his deadly medical experiments. After the liberation of Auschwitz, Eva lived for five years under Communism in Romania with an aunt who had survived the war. In 1950 she emigrate to the newly born state of Israel where she was drafted in to the Israeli Army, reaching the rank of sergeant major. In 1960 she married an American, also a survivor, and moved with him to Terre Haute, Indiana. They had two children.
In 1984 Eva founded C.A.N.D.L.E.S., an organization for the Mengele Twins dedicated to finding their medical records. In 1985 she led a memorial return of many of the twins to Auschwitz and then to Israel where a mock trial of Josef Mengele was held in Jerusalem. 
Young Adult, 184 pages, Ages 14 and up
Paperback ISBN: 0-9643807-6-5
Reading grade level: 5
---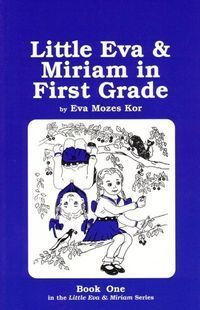 Little Eva and Miriam in First Grade
By Eva Mozes Kor and illustrated by Virginia Nehf Claussen
This true story is retold in the hope that children, and all those who read it, will make a real effort to treat others fairly without prejudice. This book was written for all children - those who have suffered prejudice and those who have been the source of discrimination - victims and victimizers, alike. All should participate in classroom discussions to explore their feelings and the possibilities for a course of action to prevent injustice from happening in their future. 
Children, 55 pages, Ages 7 and up
Paperback ISBN: 0-9643807-6
Reading grade level: 1-2
---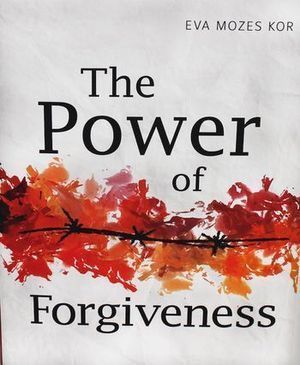 The Power of Forgiveness
Written by Eva Mozes Kor
Eva Mozes Kor was just ten years old when she was sent to Auschwitz. While her parents and two older sisters were murdered there, she and her twin sister Miriam were subjected to medical experiments at the hands of Dr. Joseph Mengele. Later on, when Miriam fell ill due to the long-term effects of the experiments, Eva embarked on a search for their torturers. But what she discovered was the remedy for her troubled soul; she was able to forgive them.
Told through anecdotes and in response to letters and questions at her public appearances, she imparts a powerful lesson for all survivors. Forgiveness of our tormentors and ourselves is a pathway to a deeper healing. This kind of forgiveness is not an act of self-denial. It actively releases people from trauma, allowing them to escape from the grip of persecution, cast off the role victim, and begin the struggle against forgetting in earnest. 
206 pages, Ages 12 & up
Hardcover ISBN: 978-1-949481-44-0
Reading grade level: 4-5
---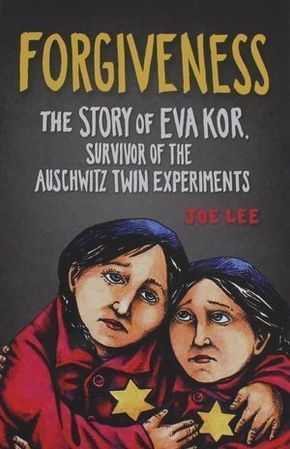 Forgiveness: The Story of Eva Kor, Survivor of the Auschwitz Twin Experiments
Written and illustrated by Joe Lee
In March of 1944, at age 10, little Eva was arrested with her entire family, including her twin sister, Miriam, for the "crime" of being Jewish.
Nazis loaded Eva and her family into a cattle car with other men, women, and children headed to Auschwitz-Birkenau concentration camp. Within moments of their arrival, the twins lost their entire family to the gas chambers without a chance to say goodbye. Because twins were considered valuable for research, the girls were spared immediate death by Josef Mengele, the Nazi doctor and war criminal, in favor of experimentation and torture. 
This stunning, heartbreaking illustrated biography tells the story of a tenacious girl's fight to survive a horrific childhood ravaged by tragedy; her growing anger as an adult who settled in Terre Haute, Indiana; and her eventual discovery that forgiveness might just save her life.
Pages: 119                                                                                                                                                                                                                                      Paperback ISBN: 978-1-68435-178-7
---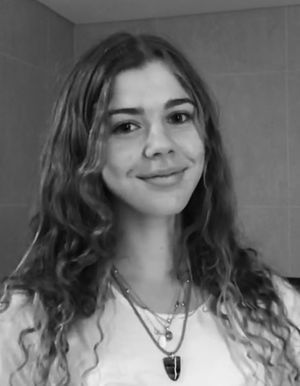 Forgiveness: The Seed of Peace
Written and illustrated by Louisa Witty
​​​​​​Louisa Witty is a 16-year-old high school student living in Sydney, Australia. With a passion for art, she recently started experimenting in graphic novels. With interest in the Holocaust, she used this passion to retell the stories of survivors who endured unimaginable atrocities. Eva Kor's story and lessons of forgiveness really stood out to her. By sharing her graphic novel, she hopes to aid in delivering Eva's message further into the world.