Upcoming Events
---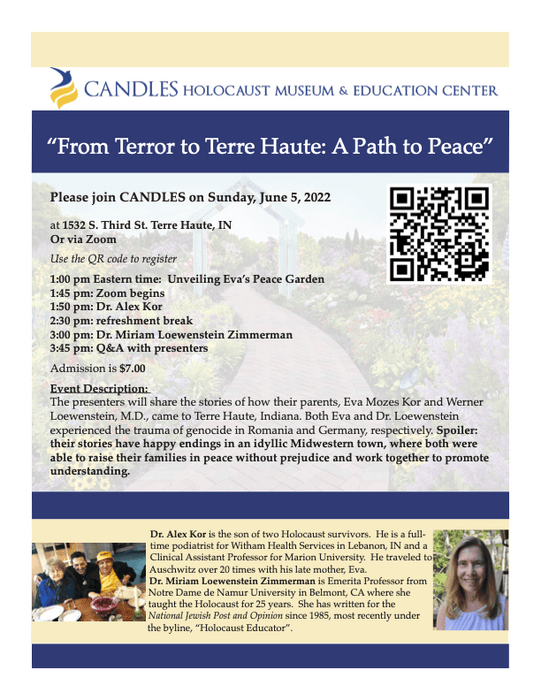 Unveiling Eva's Peace Garden

Join us as we unveil Eva's Peace Garden, a stunning and inspiring mural created by artist Becky Hochhalter.

Sunday, June 5th, 2022
1:00 pm Eastern Time
Located at the CANDLES Holocaust Memorial Garden outside of the museum. This event is free and open to the public. Registration is not required.
"From Terror to Terre Haute: A Path to Peace"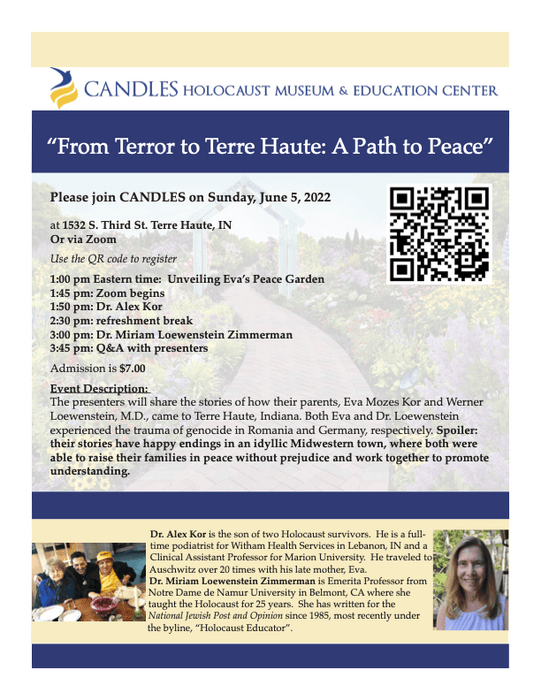 Featuring Dr. Alex Kor and Dr. Miriam Loewenstein Zimmerman
The stories of how Eva Mozes Kor and Werner Loewenstein, M.D. came to Terre Haute, Indiana, will be told by their children. Both Eva and Dr. Loewenstein experienced the trauma of genocide in Romania and Germany, respectively. Spoiler: their stories have happy endings in an idyllic Midwestern town, where both were able to raise their families in peace without prejudice and work together to promote understanding.
Join us in person at CANDLES Holocaust Museum and Education Center or via Zoom. In-person admission is $7.00 per person, and Zoom admission is free. Registration is required.