New Dimensions in Testimony
---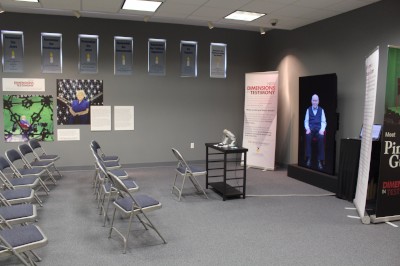 Sadly, Holocaust survivors will not always be with us to share their stories and life lessons. How can we preserve their testimonies in an engaging way so that future generations of museum visitors can learn from them?
CANDLES is partnering with USC Shoah Foundation on a ground-breaking project titled "New Dimensions in Testimony." New Dimensions in Testimony is an interactive educational tool to enable students far into the future to "talk" with 13 Holocaust survivors about their life experiences. Eva Kor is one of the 13 survivors involved in the project. New Dimensions in Testimony incorporates Eva's interview responses, which has been recorded with advanced filming techniques, next-generation natural language processing, and specialized display technologies, to deliver a learning environment where Eva's image answers questions as if she were in the room.
New Dimensions in Testimony is an initiative by USC Shoah Foundation. Collaborating within the project are Illinois Holocaust Museum and Education Center and CANDLES Holocaust Museum and Education Center, with technology by USC Institute for Creative Technologies, and concept by Conscience Display.
---
CANDLES' involvement in the project can be broken into three stages:
In 2016 Eva traveled to Los Angeles for 10 days of filming and recording. She spent much of that time sitting on a small stage positioned inside a large geodesic dome covered in lights, cameras, and green screens. She was asked more than 1,500 questions about her life before, during, and after the Holocaust. Her responses were indexed by key words, which were then tied into newly developed voice recognition software.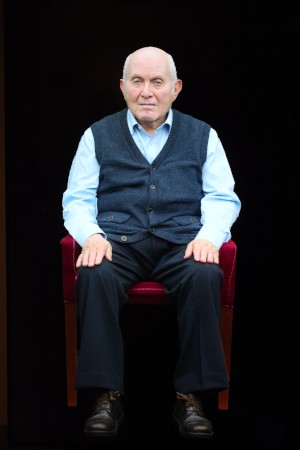 In 2017 CANDLES served as a test site for the beta image of another survivor, Pinchas Gutter. The two-dimensional test image was installed on a 75-inch 4K TV monitor hung vertically in the museum's exhibit space. Visitors were encouraged to test the natural language software by asking Pinchas' image questions about his life before, during, and after the war. Even at the testing stage, it has become evident that this technology is not only a novel way to disseminate information, but equally significant, it offers a glimpse into the survivor's personality and character.
In 2018 CANDLES will become only the second museum in the world to offer the final New Dimensions in Testimony project to the public. Plans are underway to install the requisite hardware and to transform our west exhibit room into a welcoming space for visitors to sit and "talk" with survivor images. We are honored to be part of this venture to transform Holocaust education and preserve the life-changing lessons of Eva Kor.