#RunForEva at the Hawthorn Half Day
CANDLES Holocaust Museum and Education Center is building a team to participate in the Hawthorn Half Day taking place on May 16, 2020, at Hawthorn Park in Terre Haute, Indiana. The museum and its team are participating in this event to honor Eva Kor's message of "Never Give Up!" Participants are invited sign up to run/walk the race to raise money for the CANDLES Eva Kor Legacy Education Fund. Join us in a #RunForEva!
---
   Why "Never Give Up?"   
__________
Eva Mozes Kor was a survivor of the Holocaust and a forgiveness advocate. During her life, Eva spent all of her time spreading her message of healing around throughout the world. Speaking at schools, community groups, medical associations, and at CANDLES, Eva shared her life lessons of never, ever give up, prevent prejudice, forgive your worst enemy, and be the best you that you can be. With her driving message of "never give up" in mind, Eva was able to emerge from a life filled with trauma as a brilliant example of the power of the human spirit to overcome. Now that Eva is no longer able to share her story, we must help her legacy continue to spread across the globe.
 
   About the Race   
__________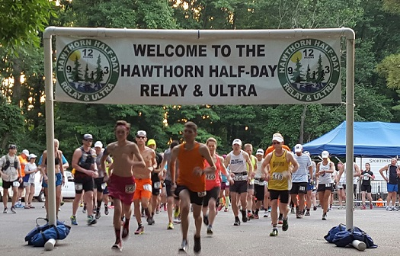 The Hawthorn Half Day has two races: the relay and the ultra. We will be participating in the 6-hour race. The goal is to cover as many miles as possible in 6 hours on the 5k loop. There is no minimum or maximum number of miles required to participate. Participants are not required to run/walk the full 6 hours. They may end their race at any time and the number of miles completed will be logged by race officials. 
With the theme of "Never Give Up," we encourage all participants to go just a little bit more than they have gone before.
 
For more information about the race, including course information, records, and rules, click here.
 
   How Can I Get Involved?   
__________​​​​​​​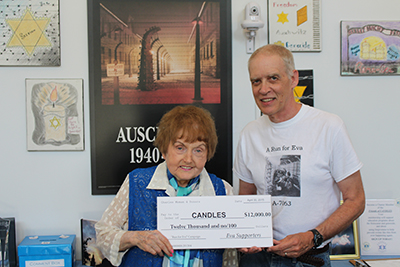 Sign Up to Run/Walk
If you sign-up to participate, the Hawthorn Half Day will donate $10 from each registration fee to the CANDLES Eva Kor Legacy Education Fund. Participants will then fundraise through their friends, family, and social media to raise additional money for the Eva Kor Legacy Education Fund.
When registering, please mark anywhere on the form that you are a member of the CANDLES team. Click here to register for the race.
Sign Up to Volunteer at Our Tent
We will need volunteers to cheer on other alumni and man our home base at the race. Click here to be a volunteer.
Sponsor a Participant 
You can sponsor a participant who is running or walking in the race.
Donate to #RunForEva
Would you rather support this project without participating? Donate directly to the CANDLES Eva Kor Legacy Education Fund.
For questions or more information, please contact us at 812.234.7881 or email runforeva@candlesholocaustmuseum.org.
_____________________________________________________

There are so many things that we are capable of, yet we don't think they are possible. Let us come together to honor Eva's memory and "Never Give Up!"