On August 31, Eva traveled to Los Angeles for an interview with Ricky Sans, the supervising producer of Buzzfeed, a global independent digital media company. The result of the interview is a 14-minute video titled "I Was a Human Experiment During the Holocaust." Buzzfeed shared the video on its YouTube and Facebook pages, and within the first 24 hours, the Facebook video had over 33 million views. As of Friday, September 29, the video had over 150 million views and counting. Mr. Sans remarked that Eva's video has become the second-most-watched clip in the company's history.
---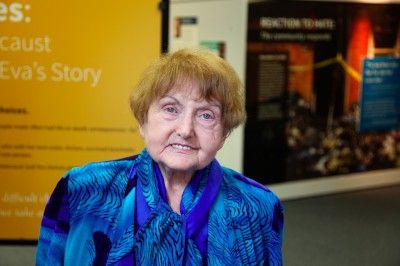 Eva Kor, Founding Director
@EvaMozesKor
Meet Eva

Eva Mozes Kor was a survivor of the Holocaust, forgiveness advocate, and public speaker. Powered by a never-give-up attitude, Eva emerged from a trauma-filled childhood as a brilliant example of the human spirit's power to overcome. She was a community leader, champion of human rights, and tireless educator. Eva died on July 4, 2019, while in Poland on the annual CANDLES Auschwitz Trip.
---
Eva's Twitter